NICO DE HEUS LOFTS AND FITTINGS
NR.1 IN EUROPE
Dealer of:
EXCLUSIVE LOFTS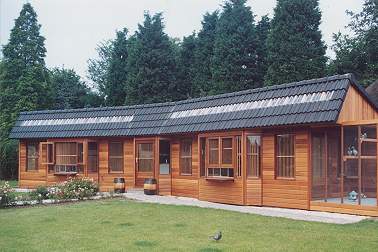 Lofts in four kinds of wood, fabricated in your own opinion;

Breeding boxes and perches, possible with electrical conveyors;

Aluminium and wooden aviaries, made to order;

The Euro mechanical ventilation system;

Robby cleaning appliances;

Self-closing widow boxes;

Screens (roller-blinds), manual or electric;

Contratex.


First class materials;

Careful assimilation of the materials;

Very solid constructions;

All kind of types and executions are possible, for example walls with spikes – doors with spikes – aluminium or wooden aviaries – floorgrates – Bay- or bow windows, placed for doors and windows etc. etc.;

Good service;

Guarantee;

A jewel in your garden;

Specialized in corner-lofts.

LOFTS FROM NICO DE HEUS
The best that can be obtained in the pigeon lofts area.
Click here to look at more photos of lofts and fittings.
For further information:
Fill in the application form (Click here) or
Call: 0031 (0)73 – 5993933 or fax 0031 (0)73 – 5991815