NICO DE HEUS LOFTS AND FITTINGS
Dealer of:
SELF-CLOSING WIDOW(ER) BOXES
The pigeons are kept on wooden grills on top of a pull-out cleaning tray. This makes cleaning easier and the pigeons can remain inside the box.
As usual, we only offer fine boxes of solid pinewood of the highest quality.
SELF-CLOSING WIDOWER BOXES: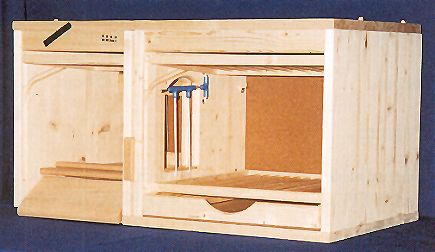 Sizes:

Depth: 40 cm (16 inch)

Width: 70 cm (28 inch)

Height: 38,9 cm (15.56 inch)



Additional advantage:
separate boxes, which can easily be replaced;
also available with bob wire in between two boxes;
the partition can easily and quickly be closed from the out side.
Prices:
Self-closing widower boxes incl. Tax: € 66,50 each
Boxes with bob wire incl. Tax: € 71,50 each



SELF-CLOSING WIDOW BOXES: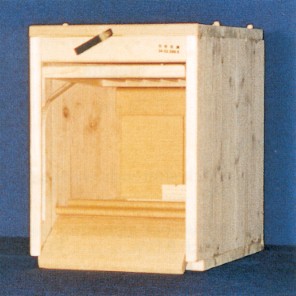 Sizes:

Depth: 38 cm (15.2 inch)

Width: 28,5 cm (11.4 inch)

Height: 38,9 cm (15.56 inch)



Additional advantage:
mutual mating is impossible;
boxes can be easily checked;
widows can calm down;
available with drinking and feeding holes at the back, water and food bowls included;
separate boxes, which can easily be replaced;
Prices:
Self-closing widow boxes incl. Tax: € 42,50 each
Boxes with drinking and feeding holes,
including bowls and holders incl. Tax: € 49,50 each




For further information:
Fill in the application form (Click here) or
Call: 0031 (0)73 – 5993933 or fax 0031 (0)73 – 5991815